We are so pleased to announce that our very own Australian Trade College North Brisbane (ATCNB) teacher Leah Pollock-Grant, has been recognised for excellence, taking out the VET Teacher of the Year award at the North Coast Region Queensland Training Awards. The prestigious awards recognise individuals and organisations that strive for and have achieved success, best practice and innovation in vocational education and training (VET).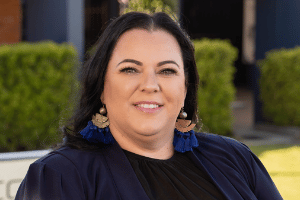 As the Leading Teacher and Guidance Officer at the College, Leah was recognised for her guidance of more than 1,200 VET students across business, creative industries, workplace practices and skills for work/vocational pathways.
Leah was teaching Certificate III in Business to Year 11 and 12 students when she recognised a need for additional support in the mental health and well-being space. This led her to study a Cert IV in Mental Health and then a Masters in Counselling to build her skills in this area.
"I can have a bigger impact on the students other than teaching them business. I model them to have positive self-talk, positive mental health and wellbeing while teaching business at the same time."
Leah also coaches other teachers and trainers on how to provide a safe and supportive classroom.
While Leah was thrilled to have won the award, she said it was a great opportunity to showcase what teachers do at ATCNB, "It's not just an award for me, it's an award for everyone because we all do an amazing job. The responsibility we have as teachers and trainers goes beyond just providing training. It's ensuring our young people are supported in their well-being as well as their mental health."
ATCNB, which is part of MRAEL and the IntoWork Australia Group, is an independent school that caters for Years 11 and 12 students that integrates Queensland's Certificate of Education (QCE), with trade training and apprenticeship services. It is based in Scarborough in a purpose built facility that includes industry standard trade workshops and state of the art education facilities. ATCNB partners with Australian Trade Training College (ATTC), a Registered Training Organisation, to provide students a wide range of nationally recognised VET qualifications and courses in trade areas such as Automotive, Business, Commercial Cookery, Electrotechnology, Engineering, Hairdressing, Barbering, Construction, Cabinet Making and Plumbing.
ATCNB College Principal, Brett Kavanagh, said the award was a testament to Leah's commitment and passion for her role, "Leah has been creating a safe and supportive learning environment for students at ATCNB for 14 years, and we're thrilled that she has been recognised for this through the Queensland Training Awards. In my 25 years of working in schools as both a teacher and school leader, I have never encountered a teacher and VET trainer that is more passionate about the long-term learning and personal wellbeing journey of her students. Leah is a most worthy candidate of the VET Trainer of the Year award category."
MRAEL CEO, Christine Zechowski, said it was teachers like Leah that help ATCNB become known as a 'trade school of excellence', "The College's philosophy is that students can reach their potential through many and varied pathways. Leah brings this philosophy to life. She takes her time to get to know students, giving them the support to find their own pathway and pursue their career goals. Our student completion and engagement rates are higher because we have teachers that care about their wellbeing.," Ms Zechowski said.
Leah is now in the running to take out the state award at the Queensland Training Awards State Final which will be presented on 17 September.